Mattes Long girths
If you're looking for stylish long girths or stud girths, we're sure to have the right product for you. A range of fascinating colour options are available for quilt and sheepskin. Why not order a spare Sheepskin cover at the same time? One for competition and a fun cover for around home.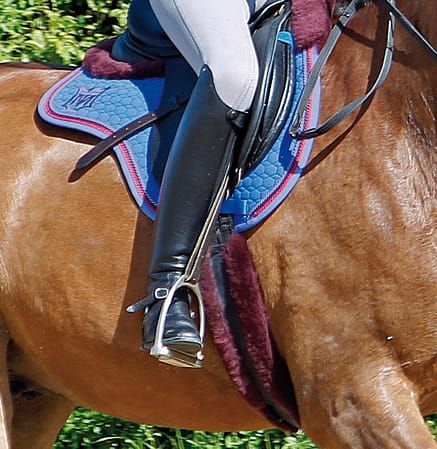 Look good all the time: leather SLIM LINE available in three colours for just $30 more!
SLIM LINE is one of our latest generation girths – and it has already proven itself many times over: The super premium quality Sheepskin cover is removable and the whole girth has a flat and slimline design. This looks much more elegant and provides greater freedom of movement around the elbows. Visible areas are finished in high quality leather. The plastic inserts are easy to remove before washing and just as quick to replace once the girth is dry.
Clever classics for your big four-legged friend
The famous Mattes long girth with removable Sheepskin cover and ingenious SOFT EDGE: The quality Sheepskin has generous cutouts on both long edges to avoid edge pressure and chafing, just like all our other girths. The basic girth is padded with POLY-FLEX® inserts, finished with elasticated stainless steel buckles and a D-ring for a martingale.
Design your own unique long girth
Choose a length between 100 cm and 160 cm.
The tough outer material and the quality Sheepskin are available in more than 30 different colours, with a choice of almost 50 shades for the decorative trim.
Our long girth is available in anatomic or anatomical girth, asymmetric girth, crescent girth and athletico girth styles.
Replacement girths and Sheepskin are available separately.
Care for your Mattes products
Mattes Sheepskin items should be washed frequently. Correct care and washing (see MATTES® special MELP detergent) is very important and will provide you with many more years of enjoyment from your product.
Further care tips here…..
Mattes Special Long Girth
If you prefer a girth without the bulky centrepiece then check here for the Mattes Special Long Girth
Press Start to begin choosing your options
Note:
There is a possibility of dye bleeding into the horses hair or other materials from dark or bright colored skin, because of the horses-sweat or use of unsuitable washing detergent.
Strong dyed leather of saddles etc. can also leave discolorations.
Our thanks for Mattes and Thomas Hartig for the Professional Photos