Mattes Western Saddle Pad
Specially designed for western saddles: tough and yet attractive.
We have a range of exclusive designs.
The wear leathers are made of top quality, abrasion resistant leather.
Our CORRECTION® system with up to three pockets on each side can be integrated into all versions.
We recommend the RIO PECOS pad (order online soon!) with two separate detachable panels.
Simply the best for your horse, and easily washable too.
Looks soft, works hard
The outside looks tasteful and sophisticated – you can opt for soft velvet instead of quilted fabric when configuring your pad, which particularly emphasises its rounded, anatomical form. Available with full sheepskin lining, the wear leather protects against abrasion. SPINEFREE® for your horse's comfort and an optional one- or three- pocket CORRECTION® system.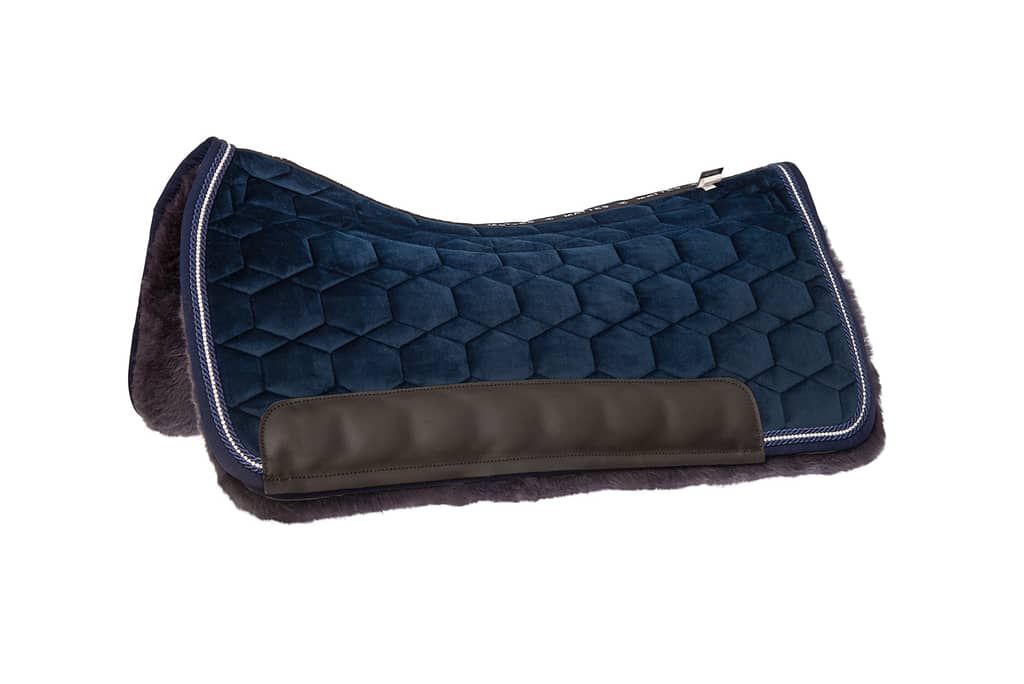 A great all-rounder – for your horse and you too
The Mattes Western pad is available in sizes S, M , L, XL and XXL. The width of the sides can also be specified to suit your needs. We recommend full sheepskin lining in one of more than 30 different colours across the whole underside, but the Mattes Western pad is also available without the sheepskin lining if you prefer. The wear leather is available in black, brown and champagne. The top band, binding and up to three rows of decorative piping are available in almost 50 colours.
Mattes Western Pad uses high quality cotton/polyester blend quilted fabric. Itn can also be made in hard-wearing velvet on request; special lustrous fibres are woven into the fabric to give a striking look while the thick layer of padding makes the quilted pattern really stand out. Both quilted fabric and velvet are available in a wide range of colours – you can design your pad yourself.
Our SPINEFREE® design reliably prevents any pressure around the withers and spine.
The core of the Mattes Western pad is made of two layers: POLY-FLEX® (a deep-needled polyester felt) is used to maintain the shape and spread the pressure, while polyester wadding provides padding. We completely avoid foam, neoprene or gel, making the whole pad breathable.
Mattes Western Pads are available with the CORRECTION® System on request, with a choice of one or three pockets; we supply three 5 mm-thick felt shims (POLY-FLEX®) for each pocket, offering the same pressure relief as a good quality new saddle, padded with wool and horsehair. Mattes developed the CORRECTION® system to allow flexible and easy changes to saddle fit by up to 30 mm: to easily compensate for the rapid physical development of young horses in training, for horses that have been out of work for some time, or for trained horses which change shape a lot during the competition season, whenever quick alterations are needed. Simply add extra shims, or just as importantly, remove them, to suit the horse's changing shape. It is crucial to balance out long-term irregularities in conformation. These should never be corrected by adjusting the saddle itself!
Care for your Mattes Western Pad
Mattes sheepskin items should be washed frequently. Correct care and washing (see Mattes MELP) is very important and will provide you with many more years of enjoyment from your product.
Further care instructions see here…..
Our Thanks to Mattes and Thomas Hartig for the Professional Photos